Haven't become a Caregiverlist provider yet? Get started now!
Looking for qualified Caregivers? Subscribe today!

Our online filtering system eliminates cumbersome job board postings and guarantees a targeted database of caregivers based on your criteria.
Benefits of our recruitment subscriptions:
Personal password protected website
Ability to screen, sort by skill level and respond to applicants
Easily review applications and keep notes
Ability to send bulk emails
Applicant Tracking System to track hiring efficiency and pre-qualify
Multiple subscription options - and so much more!
Need to train your caregivers? Subscribe today!
Train ALL of your caregivers with 1 online portal and meet state caregiver training requirements while maintaining on-going training certification.
Benefits of our recruitment subscriptions:
Easy set-up for each caregiver
Track log-in and progress
Track exam scores
Run renewal reports
Run state auditor reports
Print certificates with your company name
Check registry for caregiver training status of job applicants
Ability to merge your caregiver job applicants with caregiver training enrollment
Questions?
Attend a Webinar tutorial for the caregiver certification training
Not sure of your state's training requirements? Check them out now.
Looking for qualified client leads? Subscribe today!
Exclusive senior care plan referrals for qualifying licensed home care agencies. Receive qualified leads for seniors looking for care in your area.
Benefits of Care Counselor client referral program:
Includes mini-care plan with timeline for care, medical condition, schedule, payment method, veteran's status, age of senior, living situation, outline of care needs and overview of family members involved in care.
Customized marketing letter to promote your business in your area
Feedback on your company's response and customer service
Follow up letter for all families requesting care - and much more!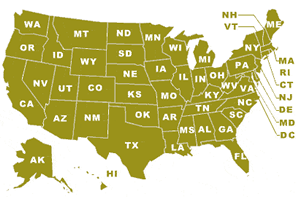 Need Background Checks? We can help you!
Caregiverlist has partnered with ClearStar to deliver a bulk discount on professional background checks.
ClearStar's award-winning customer service team will partner with you to be sure your company complies with all state laws for proper permission and disclosure forms for background checks. They will also provide timely communication to job applicants when adverse items appear on the criminal background checks plus make sure you pay fees when needed to obtain criminal records..
Use the map at left to review your state's background check disclosure laws.
Need help with recruiting technology? Our Caregiverlist Sherpas can help!
Latest Article
Tennessee Nursing Home Costs and Star Ratings Updated
2. April 2016, Renata Laszuk
Tennessee is full of attractions, both natural and man-(and woman-)made. When I went, I loved visiting the Great Smoky Mountain National Park, the Grand Ole Opry, Graceland, and my favorite, Dollywood. It also has a low adjusted cost of living and no state income tax (unless you count the highly contested Hall tax on interest and dividend income from investments.) There are only about 10 states that have lower daily nursing home costs than Tennessee, according to Caregiverlist's updated national nursing home cost database, with a daily room rate of $173.22 (the state average of single and shared rooms,) or $63,225 per year. Tennessee nursing homes carry average star rating of 2.6 out of 5.
How much do nursing homes in Tennessee cost? Senior care planning includes understanding costs of nursing homes, along with their overall ratings. It's a fact that most people don't even think about nursing home costs until long-term care is needed—like after the first 100 days of Medicare-covered care. Caregiverlist updates our nursing home cost database so seniors and their families can get an idea of long-term care costs in their area.
Stress Relief Photo of the Week
Sunshine in St. Ives: Caregiver Stress Relief
28. March 2016 Barbara
Thank you caregivers and certified nursing aides for your hard work and the care you provide for our seniors. More caregivers are always needed as seniors in America are living longer. You can learn more about becoming a senior caregiver and apply for a job near you. We invite you to take a moment to relax and enjoy this week's stress relief photo and inspirational quote and share them with loved ones. This week's photo was taken in St. Ives, Cornwall in England on a brisk spring day. Have a great week.